Rigatoni con Polpettine (with Meatballs)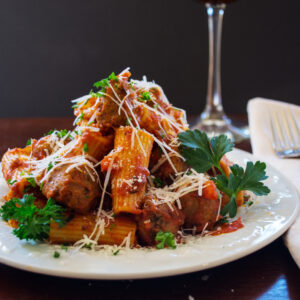 Source:
www.sanpasqualskitchen.com
1 pound Ground Meat
1 sprig Fresh Parsley, Chopped
1 clove Garlic, Chopped
1 Egg, Lightly Beaten
Salt And Pepper
All Purpose Flour For Dusting
3 Tablespoons Olive Oil
1 Onion, Thinly Sliced
1 stalk Celery, Chopped
1 Carrot, Chopped
1 sprig Fresh Rosemary, Chopped
1-¾ cup Strained Or Finely Diced Tomatoes
12 ounces, weight Rigatoni
⅓ cups Freshly Grated Parmesan Cheese
Combine ground meat, parsley and garlic in a bowl.
Stir in the egg and season with salt and pepper.
Shape the mixture into small meatballs, dust each meatball with flour, and set aside on a plate.
Heat the oil in a large pan over low heat.
When hot add the onion, celery, carrot and rosemary and cook over low heat, stirring occasionally for 5 minutes.
Add the meatballs and increase the heat to medium.
Cook until the meatballs are lightly browned on all sides.
Then add the tomatoes and season with another dash of salt.
Lower the heat, put the lid on and simmer stirring occasionally for about 40 minutes.
Cook the rigatoni in a large pot of salted boiling water according to package instructions for al dente, then drain off the water and pour the drained pasta into the pan with the meatballs.
Mix well and heat through for 2 minutes.
Sprinkle with Parmesan cheese and serve.
¡Que aproveche!
Recipe by
San Pasqual's Kitchen
at https://sanpasqualskitchen.com/rigatoni-con-polpettine-with-meatballs/