Arrosto All'arancia (Roasted Pork with Orange Sauce)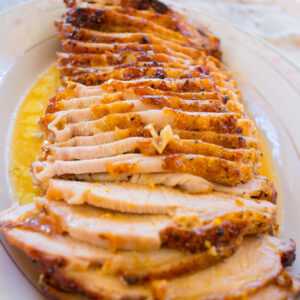 Source:
www.sanpasqualskitchen.com
3 Tablespoons Butter
1-½ cup Orange Juice
1 teaspoon Orange Zest
1 clove Garlic, Minced
1 pinch Chili Powder
1 pinch Dried Oregano
Salt And Pepper
2-¼ pounds Boneless Pork Loin
Preheat oven to 350ºF.
Melt butter in a saucepan over medium low heat. Then add orange juice, zest, garlic, chili powder and oregano. Season with salt and pepper and mix well.
Rub the meat with salt and pepper and place in a roaster pan. Pour the orange mixture into the pan over the pork, put pan into the oven and roast it, basting frequently for about 1 ½ hours. Remove from oven.
Carve and serve with the cooking juices. ¡Que aproveche!
Recipe by
San Pasqual's Kitchen
at https://sanpasqualskitchen.com/arrosto-allarancia-roasted-pork-with-orange-sauce/