Delizia al Cioccolato (Chocolate Delight)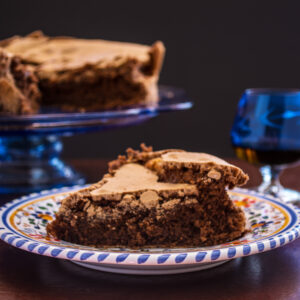 Source:
www.sanpasqualskitchen.com
¼ cups Melted Butter, Plus More For Greasing The Pan
3-½ ounces, weight Bittersweet Chocolate, Broken Into Pieces
5 Eggs, Separated
1-¾ cup Confectioners Sugar
2 Tablespoons Vanilla Sugar
¼ cups All-purpose Flour (plus Extra For Dusting)
3 Tablespoons Cornstarch
Preheat the oven to 350ºF. Grease an 8-inch springform pan with butter and lightly dust with flour. Set aside.
Put the chocolate into a microwave safe bowl. Melt the chocolate in the microwave until just melted (heat for 30 seconds at a time, stirring between additional heat increments). Set aside.
Beat egg yolks with 1 cup of the confectioners' sugar and vanilla sugar in a large bowl. Beat in the melted butter and chocolate. Then sift in the flour and cornstarch, and mix well.
Whisk the egg whites with the remaining ¾ cup of confectioners' sugar. Gently fold this into the chocolate mixture and pour into the prepared pan.
Bake for about 40 minutes (a toothpick inserted in the center of the cake should come out mostly dry), then remove from the oven and let cool. Chill in the refrigerator before unfolding and serving.
¡Que aproveche!
Recipe by
San Pasqual's Kitchen
at https://sanpasqualskitchen.com/chocolate-delight/