Judías Blancas con Chorizo (White Beans w/ Chorizo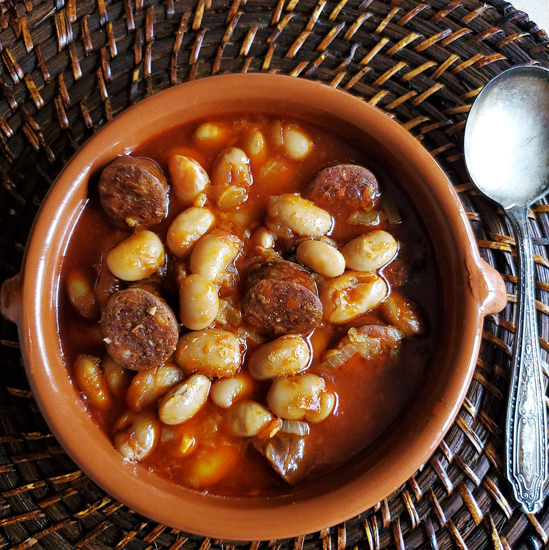 Source:
www.sanpasqualskitchen.com
150 gr of chorizo, sliced in 1" pieces
3 tablespoons extra virgin olive oil
1 red onion, chopped in large pieces
2 cloves of garlic, crushed
1 teaspoon of sweet paprika
1 large tomato, peeled and seeded
1 bay leaf
2 cans large white beans (15 oz), drained and rinsed
In a large saucepan, heat the olive oil over medium heat. Add the onion, stirring occasionally for 10 minutes or until softened. Add the garlic and sweet paprika, stir and cook for 1 minute, until it begins to give off aroma.
Add the tomato and the sliced ​​chorizo ​​to the onion mixture. Stir continuously while cooking for about 5 minutes.
Add the beans and the bay leaf, and just cover with water.
Increase the temperature until it starts to boil. When it begins to boil lower the temperature, cover the pan and let it cook over low heat for at least 30 minutes or until thickened.
Season with salt to taste.
Recipe by
San Pasqual's Kitchen
at https://sanpasqualskitchen.com/judias-blancas-con-chorizo/