Cinnamon Walnut Coffee Cake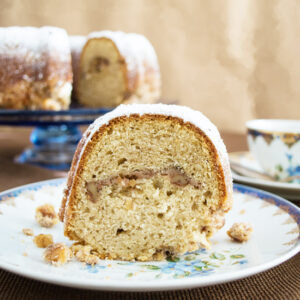 Source:
www.sanpasqualskitchen.com
CAKE
5 tbsp butter
⅓ cup vegetable oil
1 cup sugar
3 large eggs
1 tsp salt
1 tsp cinnamon
2 tsp vanilla extract
2¼ cups all purpose flour
2 tsp baking powder
½ tsp baking soda
1 cup sour cream
FILLING
½ cup walnuts, chopped
½ cup chocolate chips (optional)
½ cup sugar
½ cup all purpose flour
1 tsp cinnamon
3 tbsp butter, melted
Preheat Oven to 350°.
FOR THE CAKE
In a mixing bowl, beat butter, sugar and oil until fluffy. Add the eggs one at a time and beat until incorporated. Add the salt and flavorings and beat until well blended.
In a separate bowl, whisk to together, flour, baking powder, and baking soda.
Add the flour mixture to the egg mixture alternately with the sour cream, mixing on slow speed until just blended.
FOR THE FILLING
Combine the nuts, chocolate chips (if using), sugar, flour, cinnamon, and butter in a bowl and mix well.
Spoon half of the cake batter into a lightly greased 9" tube or bundt pan. Sprinkle ⅔ of the filling onto batter and then top with the remaining batter and sprinkle with remaining filling.
Bake for 55 minutes or until a toothpick comes out clean. Remove the cake from the oven and let it cool in the pan for 15 minutes. Remove from the pan and let cool on a rack until completely cooled. Enjoy!
Recipe by
San Pasqual's Kitchen
at https://sanpasqualskitchen.com/cinnamon-walnut-coffee-cake/