Caldo Gallego (Galician Broth)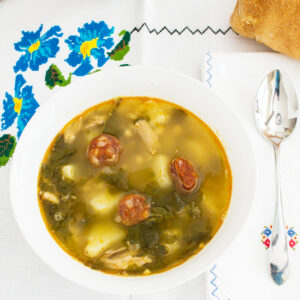 Source:
www.sanpasqualskitchen.com
1½ cups dried white beans
1 ham knuckle, or 1 ham bone, or 1 ham hock, or 1lb. pork bones
1 tbsp salt
1½ tsp paprika (preferably Spanish)
¼ tsp pepper
1 lb potatoes, peeled and diced
1 bunch turnip greens, rinsed and coarsely chopped
2 spanish chorizos (6.5 oz total), cut into pieces
Soak the beans overnight in cold water.
Rinse beans then add them back to the pot with the pork.
Cover with 8½ cups of water and season them with the salt, pepper and paprika.
Bring to a boil, then turn down heat and simmer 1 hour covered. (Skim off foam)
Remove the pork bones from the broth and add the potatoes, turnips, and chorizo.
If you like, pull the meat of the bones and add back to the pot.
Return the pot to a simmer and cook for 30 more minutes.
Recipe by
San Pasqual's Kitchen
at https://sanpasqualskitchen.com/caldo-gallego-galician-broth/