Blueberry Cream Cheese Braid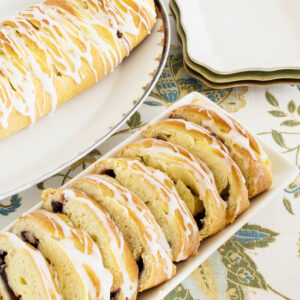 Source:
www.sanpasqualskitchen.com
For the dough:
2 tsp instant yeast
¼ cup warm water
¼ cup sugar
3 cups pastry flour
6 tbsp sour cream
6 tbsp butter, soft
1¼ tsp salt
1 large egg
1 tsp grated lemon peel
For the filling:
8-ounce package cream cheese, softened
2 tablespoons soft butter
¼ cup sugar
⅛ tsp salt
1 tsp vanilla extract
3 tablespoons all-purpose flour
1 large egg
½ cup blueberry jam mixed with 2 tbsp flour
For the icing:
1 cup powdered sugar
½ tsp vanilla
1 to 2 tbsp milk
For the dough:
Preheat oven to 350º.
Combine the yeast, warm water, and 1 teaspoon of the sugar and ½ cup of the flour in a large bowl. Cover with plastic wrap and set aside until mixture is bubbly, about 15 minutes.
Stir in the remaining dough ingredients and knead the dough until soft and pliable.
Place the dough in a lightly greased bowl and cover with plastic wrap. Let rise in a warm place until doubled, about 1 hour.
For the filling:
In a medium-sized bowl, beat together cream cheese, butter, sugar, salt and vanilla. Then mix in the flour and the egg, scraping down the sides of the bowl.
Deflate the dough, and divide it in half. Roll each half into a 15 x 10-inch rectangle, and place on parchment-lined baking sheets.
Spread half of the jam in a 2½-inch-wide swath down the center of each rectangle, leaving a 1-inch border at the top and bottom.
Top jam with half of the cream cheese filling.
Make 1 ¾ inch cuts every ¾ inch down the long sides of the dough. Fold the ends over the filling, then pull the cut strips up and over, alternating sides. Repeat with the remaining piece of dough.
Cover the braids and let them rise for 30 to 45 minutes, until they're puffy looking. If desired, brush with an egg mixed with 1 tablespoon water to make a shinier crust.
Bake the braids for 32 to 36 minutes until golden brown. Remove from the oven, and allow them to cool.
For the icing:
Mix powdered sugar, vanilla and milk, 1 tablespoon at a time, until spreadable (mixture will thicken slightly as it sets).
When the braids are cooled, drizzle with icing.
Recipe by
San Pasqual's Kitchen
at https://sanpasqualskitchen.com/blueberry-cream-cheese-braid/