Taquitos with Salsa Serrano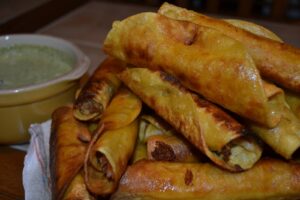 Source:
www.sanpasqualskitchen.com
FOR THE TAQUITOS:
6 cups Cooked Turkey Or Chicken, Diced Or Shredded, Leftover Are Great
¼ teaspoons Onion Powder
¼ teaspoons Paprika
¼ teaspoons Cumin
¼ teaspoons Garlic Powder
½ teaspoons Chili Powder
1 teaspoon Salt
36 Corn Tortillas
Cooking Oil, Enough To Fill The Bottom Of Your Pot By 1 Inch
FOR THE SALSA SERRANO:
1 bunch Cilantro
1 whole Large Tomato
2 whole Serrano Peppers
1 whole Onion, Medium, Halved
1 teaspoon Salt
½ cups Sour Cream
For the taquitos:
In a large bowl mix the spices with the leftover turkey or chicken and smash everything together.
Heat the tortillas in the microwave for 3 minutes on high. If they seem like they want to tear while you are rolling the taquito, they need another minute or so.
Put a few tortillas on a work surface. Fill each tortilla with smashed turkey or chicken, roll it up, and secure it closed with a toothpick. Repeat with all of the tortillas and filling.
Heat about an inch of oil in an 8″ skillet to a medium heat. You want a good sizzle when the taquito is placed in the oil. You can put a small piece of tortilla in there to test it and make sure it's sizzling. Put some of the taquitos into the hot oil. Fry until golden brown turning once. Place on paper towels while you repeat the frying process with remaining taquitos.
For the salsa:
Put a pot of water onto the heat and bring to a boil (should be enough water in there to cover the tomato, peppers and onion). Wash the vegtables and cilantro. Peel the onion and halve it. Then boil the tomato, onion and serranos until tender, about 5 minutes. Take vegetables out of the water reserving the water to add into the sauce.
When cool enough to handle, remove the peel from the tomato and core it. Place all of the salsa ingredients in the blender, except the sour cream, with about a ¼ cup of the water used for boiling. Blend thouroghly. It will be quite hot so be careful. Let mixture cool to about room temperature and mix in the sour cream.
Serve taquitos with salsa for dipping!
Recipe by
San Pasqual's Kitchen
at https://sanpasqualskitchen.com/taquitos-with-salsa-serrano/