Braised Pork with Rosemary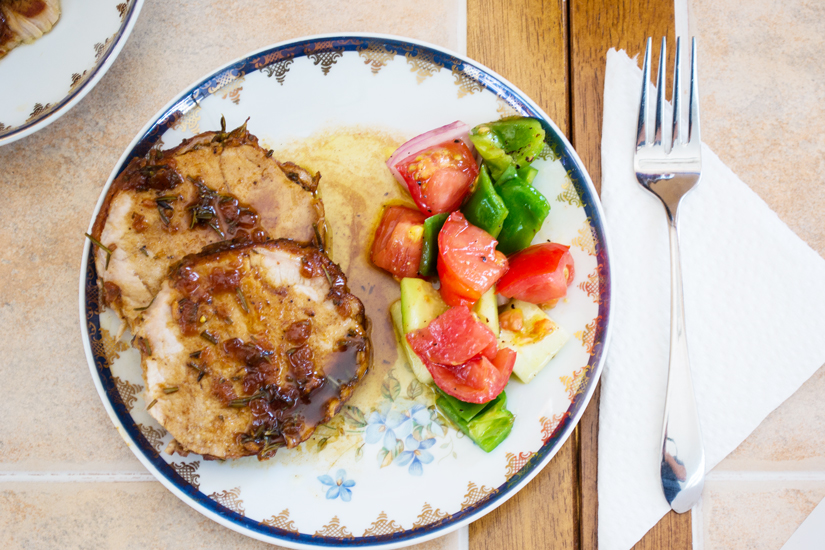 Source:
www.sanpasqualskitchen.com
Needles from 2 rosemary sprigs
2 lbs. pork loin
2 tbsp butter
6 tbsp olive oil
1 clove garlic, chopped
1 small onion or ½ of a medium onion
¾ cup dry white wine
1 tbsp white wine vinegar
1 tsp Dijon mustard
Salt and pepper
Make little slits in the meat with a sharp knife and insert the needles of one of the sprigs of rosemary into the meat and tie with string.
Heat the butter and 4 tablespoons of the olive oil in a large pan over medium heat, and add the pork. Brown the meat on all sides until golden brown.
Turn the heat to medium low and add the garlic, onion, and remaining rosemary.
Add the wine and cook until evaporated.
Season with salt and pepper, cover and simmer for about 1 ½ hours.
Remove the pork from the pan and let rest for 10 minutes, then untie and carve into thick slices.
Stir the vinegar, the remaining 2 tablespoons of olive oil and mustard in to the pan sauce with a pinch of pepper.
Serve in a sauce boat or pour over the meat.
Recipe by
San Pasqual's Kitchen
at https://sanpasqualskitchen.com/arrosto-con-il-rosmarino-braised-pork-with-rosemary/